High quality portable table with so many uses!
I am loving this portable, folding table! So easy and quick to set up and very light weight at only 11 pounds. This table is great for camping, extra seating space for holiday dinners, can be used for parties (cake table), tailgating, portable workstation, picnics, beach trips, extra counter space in small kitchens, BBQ's and so much more! I love that when it's not in use I can easily fold it in half, put the security latches in place and store it behind my couch... which is so helpful living in a small apartment.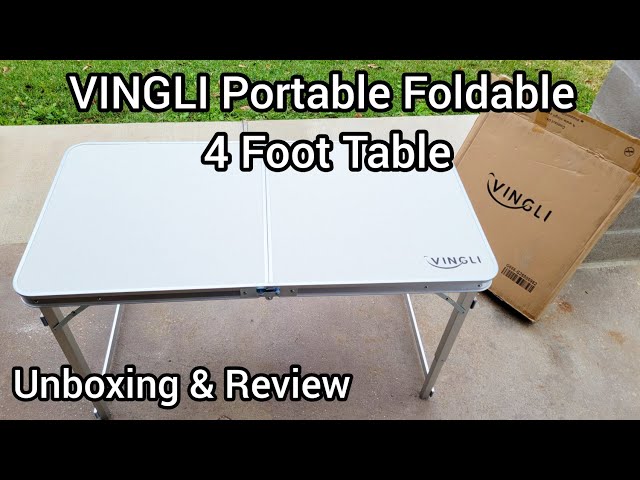 great for a variety of uses
I have this table for when I go camping, but I also use it around the house for extra seating or a buffet table. It is both attractive and sturdy. I like that it has convenient carry handles and stores easily in a closet. The fact that my granddaughter can sit at this table easily with her wheelchair or kid chair is a definite plus.
perfect for a pic nick or your boat
I looked and looked for a small and easy to carry table and when i saw this one, i loved the design and the looks. Now that i have been using it for a while i must recommend it. it is strong, good looking, light and easy to store.
Great construction and a very good price for a nice quality portable table.
I ordered it and got the wrong item but they got it to me in two days, great!
Right on time for camping
It came fast
Used for the grandkids and liked that is has legs to adjust the height.
Cheap yet Useful!!!
Anyone or even 10 years old kid can fold/unfold the table.
Light weighted & easy to assemble.
Love it!!!
Dishwashing station for the camper!
Great little addition to our camper. We have it set up by the outdoor shower as a dishwashing station and it works perfectly-very lightweight and easy to set up. Plus the color matches our camper trim and looks so cute!
Lightweight and sturdy!
Great table, sturdy and adjustable. We use it to play games, with one sitting on couch and one sitting on the ottoman. We will take it on camping trips too. It is easy to fold up and lightweight.